What are the main features of ComicArtTracker?
Explore
300 comic art websites at a glance on your computer or smartphone, whenever, wherever.
Search
Looking for a particular artist or character? Use ComicArtTracker's search engine to see what's buried in inventories all over the world - currently 262000 artworks available for sale!.
History
Need to price a specific artwork? ComicArtTracker lets you search more than 2,000,000 past sales.
Track
Auction coming up with your grail? Click the Track button and that listing will be added to your Tracked page for you to easily follow or share with friends.
Alert
Never miss a new piece of art! Tell us who your favorites are and ComicArtTracker will alert you by email when a new matching piece is listed.
Can I sell my comic art on ComicArtTracker?
If you're a professional (artist, rep, dealer, auction house) and have a website that you would like to see indexed on ComicArtTracker, see How to get my website on ComicArtTracker?
If you're a collector, it is not possible to post your art for sale directly on ComicArtTracker. See Where can I sell my original comic art? to get a list of all the places where you can sell your art. And once your art is for sale, you'll see it on ComicArtTracker as well!
How can I avoid entering my login and password again and again?
In your settings, in the Account section, click the "Activate my personal shortlink" button if the option is not already activated.
Copy this link and add it to your bookmarks, or as a shortcut on the home screen of your mobile device (see here for how to do it on iPad, iPhone, or Android) for quick access to ComicArtTracker.

Please keep in mind that this link is strictly personal: do NOT share it (by email or on social networks) nor use it on a public computer. If you shared it by mistake, click on the "Deactivate my personal shortlink" button to disable this link.
How can I get alerts for new art?
ComicArtTracker can send you notifications by email when new art is listed that match your predefined keywords. All you have to do is create your free ComicArtTracker account and list your favorite searches in Settings / Favorite searches section You can also add new favs from the Search results page or Artists pages.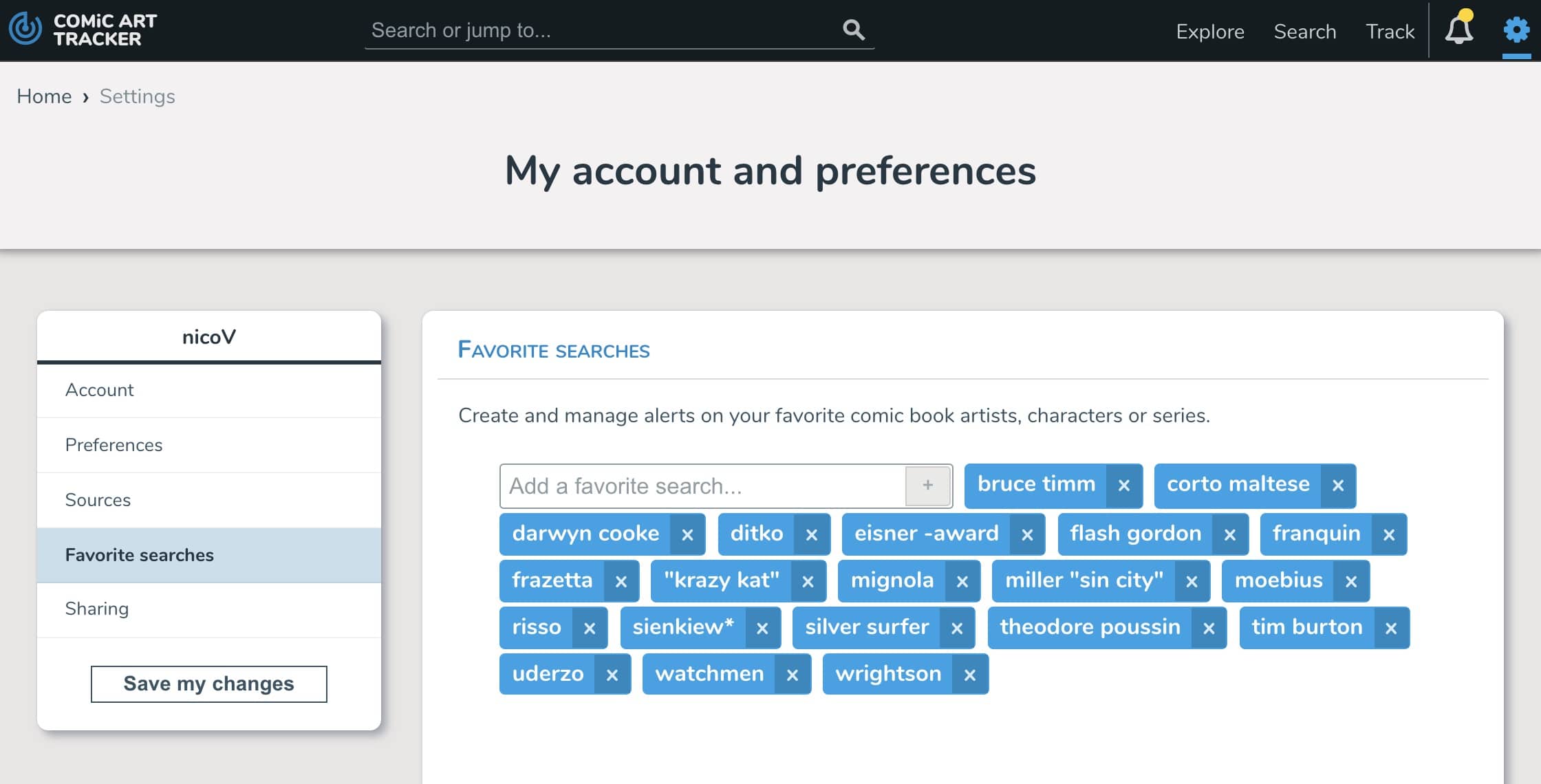 When this list is populated:
If you don't want to receive these daily emails, you can opt out in the Settings / Preferences section. New matches will remain accessible through the My notifications page.
All your favorite searches are accessible in one click on the Search page. Click on any keyword to launch the related search, or click on 'Check all favorites now' to search all your keywords at once!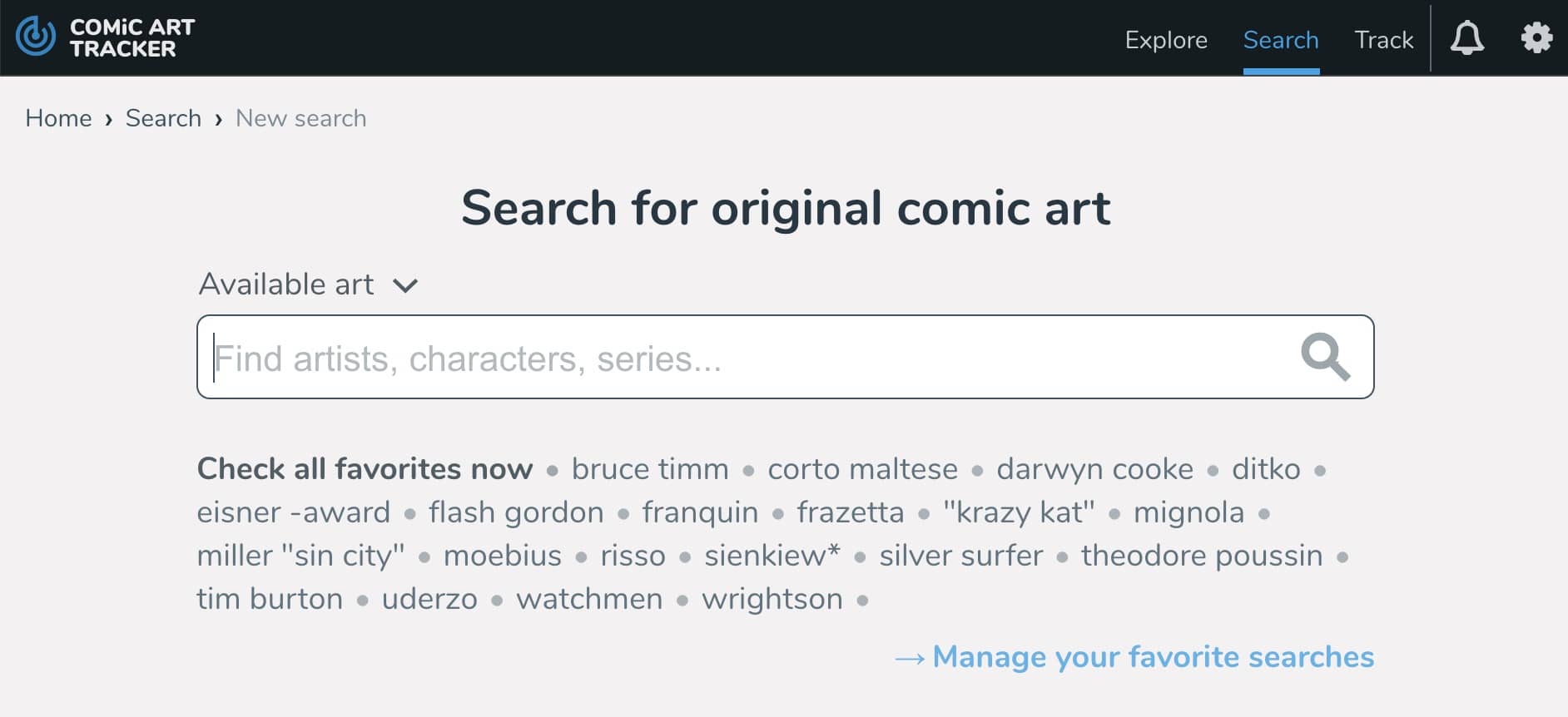 See How can I search for specific comic art? for search queries syntax and tips.
How can I search for specific comic art?
Go to the Search page and enter one or several keywords in the large text field , then press Enter or click on the blue button . If you are looking for past comic art sales / auction results, click on 'Available art' above the text field to switch to 'Sold art' before submitting your query.

(The same search box is also at the top of any page for quick access.)
Search queries syntax
Search tips
Remember to check your spelling.
Keep your queries simple: it's better to get too many matches than too few. You don't want to miss out on that one special piece because your search terms were too specific.
Use the * suffix when searching for terms that have a plural (daily strip will not match a description about "3 daily strips", but daily strip* will)
If you regularly search for the same keywords, you should consider creating a list of favorites keywords. It will allow you to launch all your favorite searches at once , and ComicArtTracker will notify you by email when new matching art is listed. See how to be alerted by email.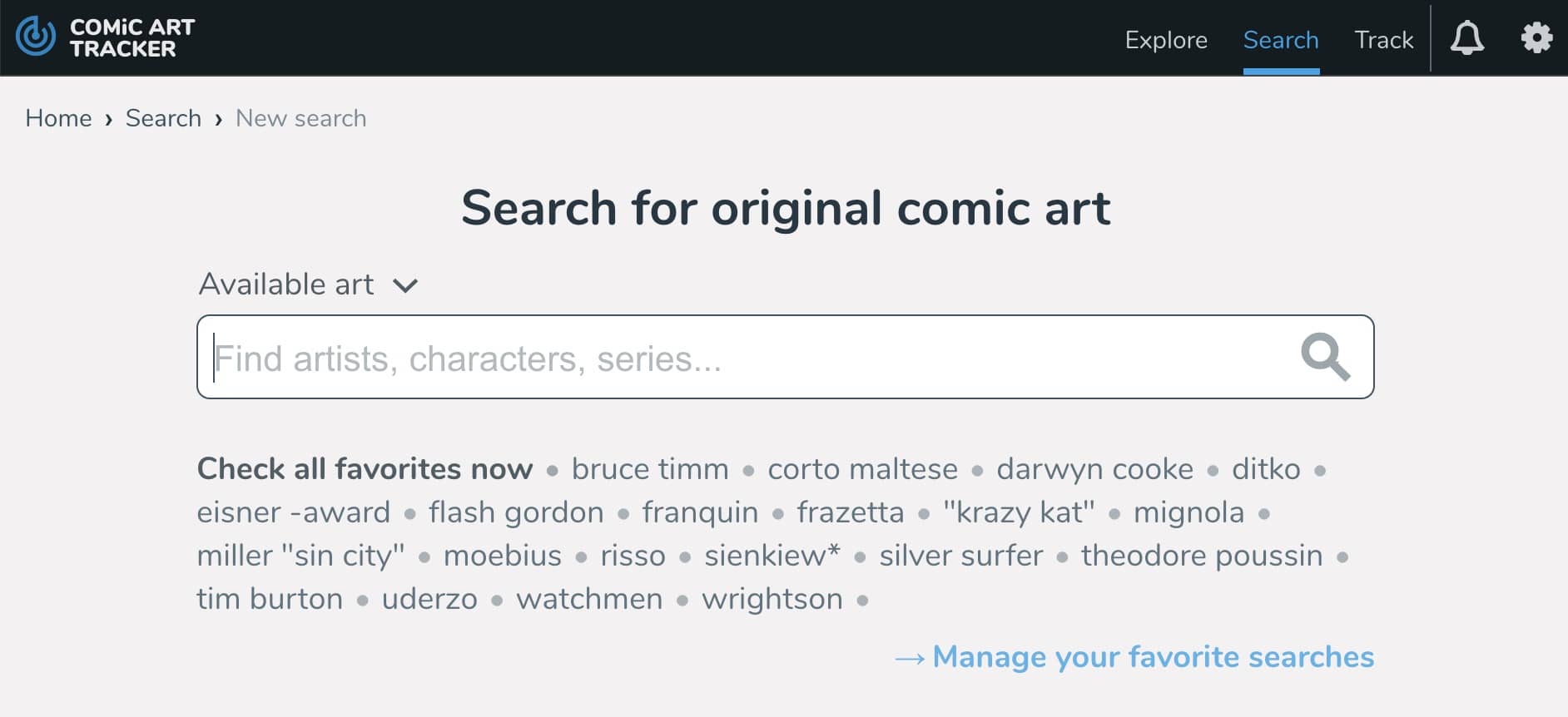 How can I see past sale prices?
ComicArtTracker gives you access to more than 2,000,000 past results (auctions, dealers sales and marketplaces). To search for past sales, go to the Search page and click on 'Available art' above the text field to switch to 'Sold art' before submitting your query.

See
How can I search for specific comic art?
for a detailed description of this feature, including queries syntax and tips.
How can I track specific comic art?
Everytime you find a piece of art you like or an upcoming auction lot you want to keep an eye on, one simple click will add this art to your personal tracking list
. You'll get reminders for auctions (by email and on the home page) and will be able to check your tracking list whenever you want, even for sold items.

Tracking a piece of art is easy: on all pages displaying artworks (new listed art, auctions, search results, etc.) simply click on the "track" icon to add this art to your tracking list (the icon turns blue). Click again to remove it.

When an artwork has been added to your tracking list, a new icon appears right above the "track" icon. Now you can organize your tracked art by creating and assigning tags.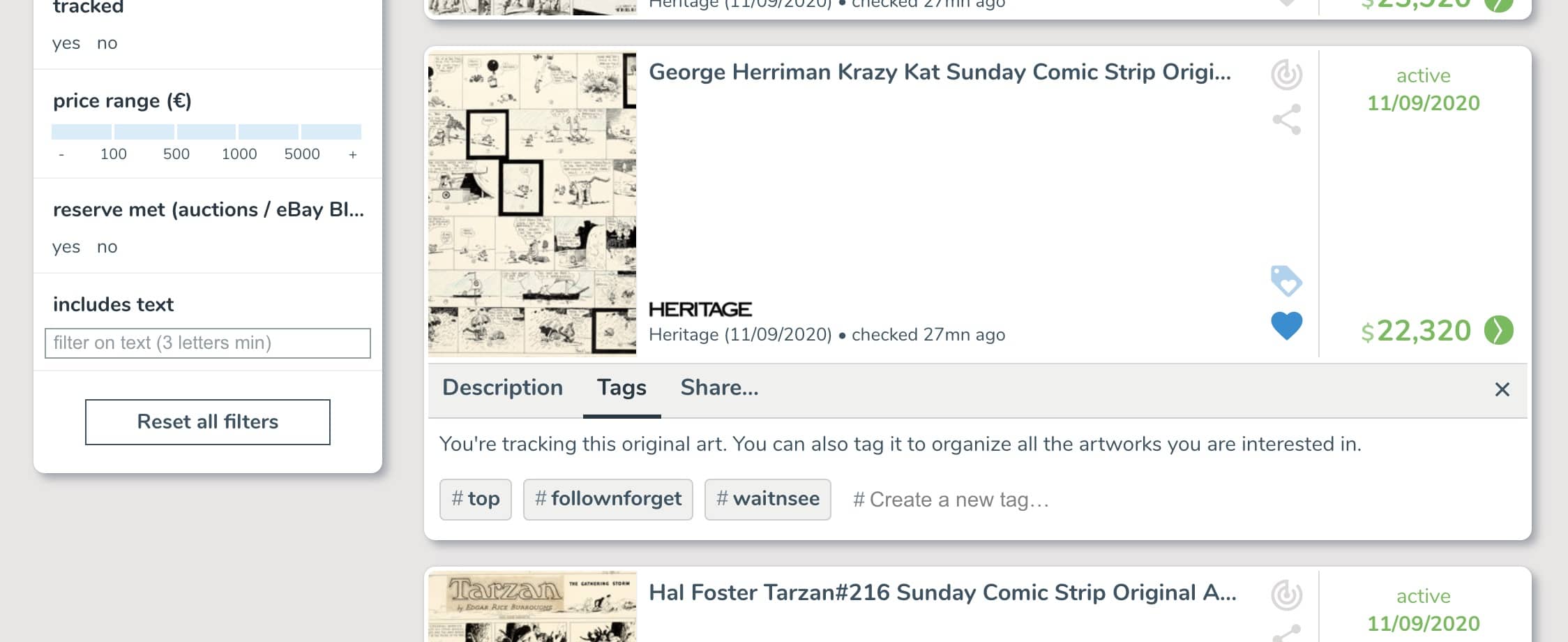 These tags can then be used to filter your tracked art :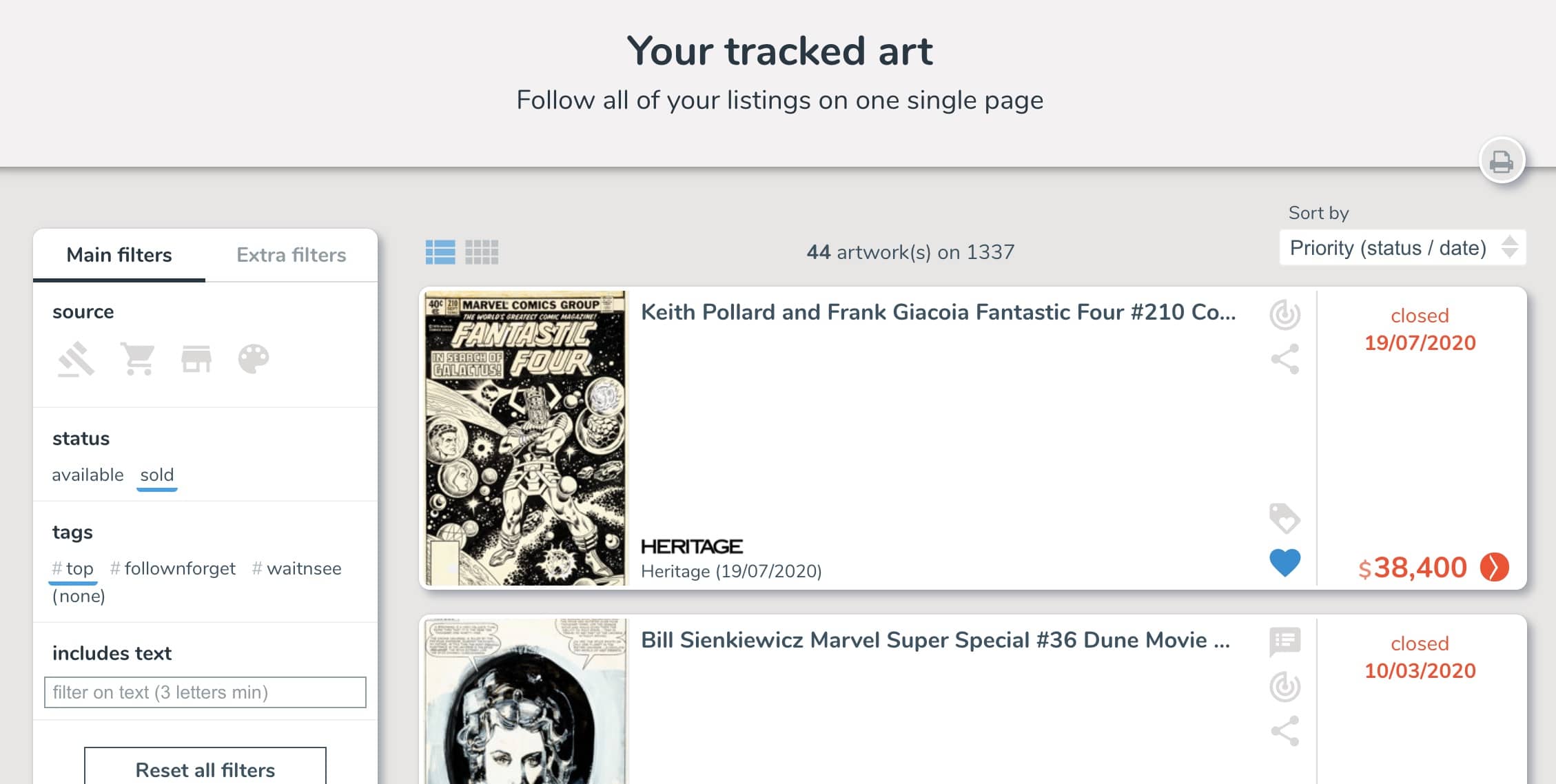 I get the same results again and again when searching for new art. How can I get rid of them?
When you're logged in (sign up for free if you don't have an account yet), you can tell ComicArtTracker to ignore listings that match your searches but that you are not interested in. Ignored artworks will not come up on subsequent searches.
First create your list of favorite keywords, then go to the search page and click on "Check all favorites now". After a few seconds, all matching results are displayed: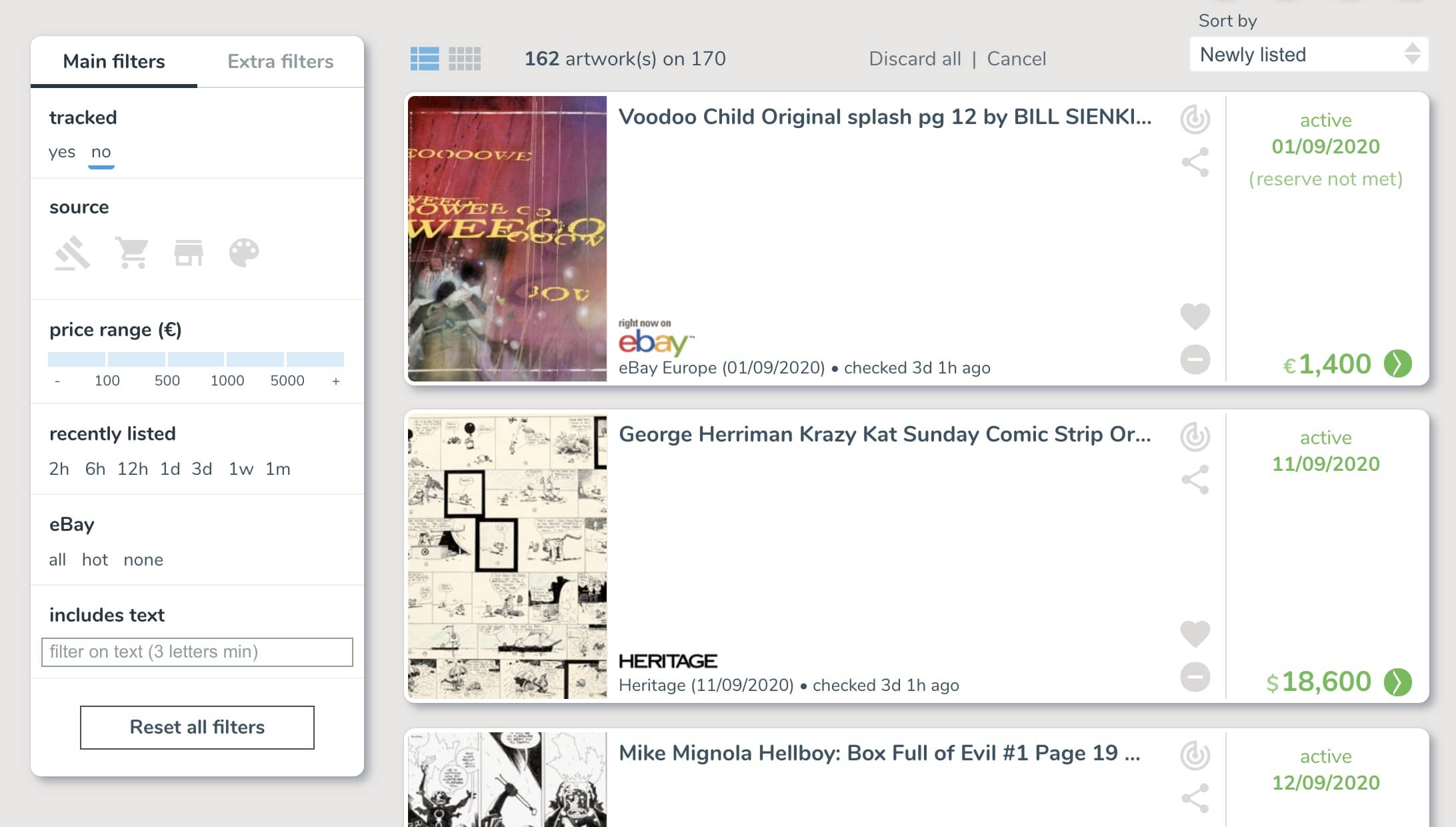 Click on the "discard" icon on any art to remove this art from all future search results (the icon turns red). Click again to cancel this action.
If you want to discard most of the listed items, click on "Discard all" at the top of the search results to switch all "discard" buttons on. You can then undiscard (or track) the few items you did not want to discard.
If you discard all unwanted artworks in your search results, next time you'll only see new art listed since your previous search.
Note that, if you have a lot of results (typically if you are checking some favs for the first time), you can also use the filters on the left to discard your search results by blocks: for instance, if you already checked your search results less than 3 days ago, you can first discard all results, then filter on "recently listed: 3d" and click "Cancel" to undiscard these ones. Now you can check these remaining results one by one to discard the ones you are not interested in and keep the other ones.
Is there a dark mode on ComicArtTracker?
ComicArtTracker has an option for a light or dark theme.
When logged in, go to your Settings in the Preferences section, and choose an 'Appearance' option. If you select 'Automatic', ComicArtTracker will follow your computer settings and switch between light and dark themes depending on the time of day.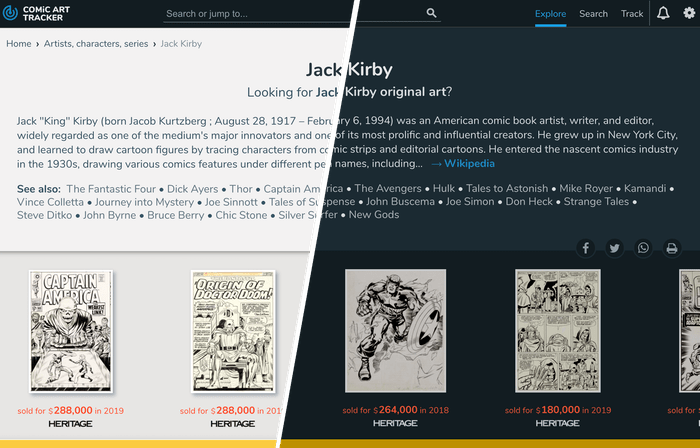 Light and dark modes on ComicArtTracker
There's something wrong with ComicArtTracker!
If you encounter any difficulty in using ComicArtTracker, or if you found a bug, please contact us. Please try to describe precisely what's wrong to help us identifying the origin of the problem, as well as the device (mobile, tablet or computer? iOs, Android, Windows, MacOS or other?) and browser you use.
What should I do to get my website indexed in ComicArtTracker?
If you are an artist, a dealer or an auction house and you have your own website with the comic art you're selling or auctioning, feel free to contact us. We will review your website for possible inclusion and will do our best to add it to ComicArtTracker's crawlers quickly.
If you are an auction house and your auctions are held on a marketplace (such as LiveAuctioneers, Invaluable, iCollector, DrouotOnline,…), we can also index them!